This morning Olivia and "Bump" dropped me at the station, to set out for my initial journey to Penzance. Settled down to read, but the call of the countryside called too loud after Reading. The call of the west Country was striking me louder and louder as we headed through Somerset, Dorset and Devon. The most magnificent views along the coastal railway from Exeter down to Plymouth, and then the hills of Cornwall --- a warning for tomorrow!
Arrived in Lands End, with time to take photos of the sunset, and fog rolling across Lands End ...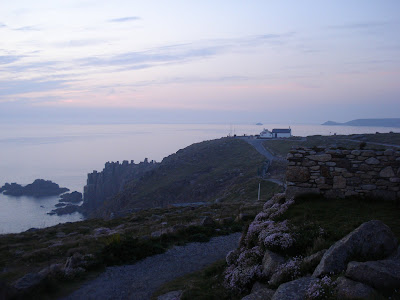 Lands End at sunset
Staying at the lands End hotel, which is packed with a wedding party, so no food available! Headed to the far superior "First and Last" pub up the road for dinner, and then time to take in the scene with sunset over the First and Last house. With no-one about, this is beautiful, serene and peaceful. A truly grounded moment - I didn't want this to finish or to leave. Gradually the fog rose and rolled across the bay, so I headed for the bar to meet some more Tourists.
| | | |
| --- | --- | --- |
| | | |
| Meeting other cyclists | First and last House | Fog rolling in from the east |