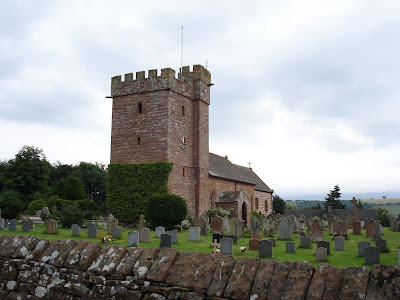 Great Selkeld
A beautiful day's riding through the remainder of Cumbria heading into Scotland. Appleby-in-Westmoreland and Great Selkeld stand out as towns I am passing through, but the countryside remains more fixed in my mind. The hills are getting to my knees again, so a friendly pharmacist in Longtown provides help with support bandages topped up with ibuprofen to get through the day.
Although the knees are aching, my overall strength and stamina are certainly increasing. At Longtown, I have some time to spare, so I'm tempted by a trip to Gretna, but decide to stay focused on the trip ... getting to John O'Groats is the only goal.
Crossing the River Sark, I am in Scotland - only the second time I've been here. Meet up with several groups of other Tourists here for many photos and afternoon break. Then on to Ecclefechan to find the campsite for afternoon tea. I find out that there's slight confusion over my booking at the hotel, and I'm in an outbuilding rather than the main hotel. At least I've got somewhere to sleep ... and it's not a tent. The guys camping are getting more damp and cold as the days go by.
| | | |
| --- | --- | --- |
| | | |
| Cumbria | River Eske | Welcome to Scotland |
Hmmm, but the hotel is like Fawlty Towers - you have to laugh - it's the only way. They don't generally serve food on a Monday, but with so many of us staying from the Tour, they have agreed if we book meals in advance. And the chaos ensues ... a couple of starters, then some main courses, then a few more starters, then another tables main courses, then some more starters and some puddings ... and so on for two hours. The waitress is very friendly, embarrassed about the service and trying to help. We end up helping ourselves - one of us behind the bar serving drinks, one searching for wine, one finding the bread rolls. So we get through dinner, before retiring to serve ourselves in the bar. The owner occasionally shows his head to take the money ...
Tour map from Google maps
Tour summary: 73 miles planned, 74 miles actual, 627 miles total so far