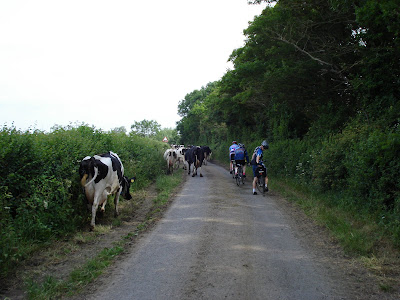 Morning traffic jam
With lots of cloud cover to start the day, the weather was slow to get started - just like my legs. I just couldn't get going until after the first 20 miles. This has slowed my progress significantly - I can't seem to keep up with any of the other groups in the morning. But I feel more energy in the afternoon, especially once I've crossed the half way point for the day.
Another long climb today, up the Quantock Hills, but managed to do all the hills without walking. And I got to the campsite late afternoon in time for cake - I need the energy, burning so many calories up those hills.
| | | |
| --- | --- | --- |
| | | |
| Tiverton | Bishops Liskeard | Entrance to Cothelstone Manor |
Into the Somerset Levels, I am staying at a lovely B&B just outside Bridgwater (Appleview B&B at Temple Farm). We had dinner organised at a local pub, with nearly all the group. So spent dinner with some fellow tourists sharing our thoughts about the day, the organisation, the hills and last night's Little chef!
Had dinner with Enos, who is 69 and cycling Land's End to John O'Groats for the third time. Last time, he walked up one of the hills and has been cursing his decision ever since. So he's set out to cycle all the hills this time. It's also part of his training for the Great North Run. After being told he would never walk the hills, let alone run again, many years ago, he continues to set himself challenges including the Great North Run this year, just because his children have done it.
A route from Google maps
Tour summary: 61 miles planned, 64 miles actual, 197 total so far