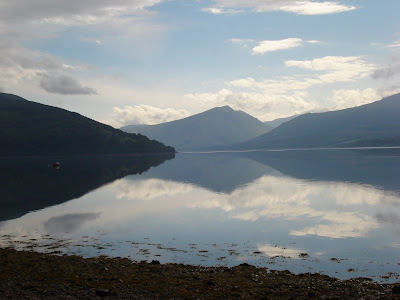 Loch Fyne at Inverarary
I survived broken glass of Glasgow without a puncture, but checking my bike shows a 2 inch strip of rubber has been removed from one of the tyres. As usual, I'm in a mad hurry to leave early as I'm slower than most of the other cyclists. But I listen to my own advice from the previous two days, and take time to get it changed. The tyre was dangerous and could have blown on one of the steep descents. So I'm last leaving ... probably an hour after most people.
Beautiful sunny morning cycling by the lochs and glens out to the coast. But the skies grey and rain sets in for the afternoon, a proper Highlands storm with rain and wind, thunder and lighting. On the news I see that flash floods are starting in parts of the country we have left. We may need canoes by the end of the week.
Gradually catch up with other groups, so that there is a long line of us (probably over 20 cyclists) all heading into Fort William together. Great for us, but a pain in for the rest of the traffic on the narrow roads.
Found dinner at a traditional pub in the centre of Fort William, then a walk round the small town in the brilliant evening sunlight. Local bagpipe band is playing in the high Street, attracting crowds of proud parents and tourists.
| | | |
| --- | --- | --- |
| | | |
| Castle ruins | River | Heading into The Highlands |
| | | |
| Castle Stalker, Loch Laich | Bagpipes in Fort William | Loch Linnhe from Fort William |
Route map from Google maps
Tour summary: 75 miles planned, 72 miles actual, 854 miles in total so far.