With another long day's cycling planned, I want to get on the road early. But the weather is appalling and others are planning to wait. Wanting to travel in groups through Glasgow, I'm torn about what to do, but remember my comments about people rushing off early yesterday. I wait with Gareth and Enos, Mike and Dave. And they're right – the weather eases off just before 10, and we get through Glasgow in the dry.
There are cycle tracks right the way through Glasgow out to Clydebank, part of the Sustrans initiative. This is a great idea, but there is broken glass everywhere. We are constantly running into other groups from the trip, all stopped to fix punctures. And then they overtake us as we pick up a few of our own. Instead of locking up the drunks and delinquents to add to the prison crisis, couldn't the government send them round the countries cycle tracks with a broom??!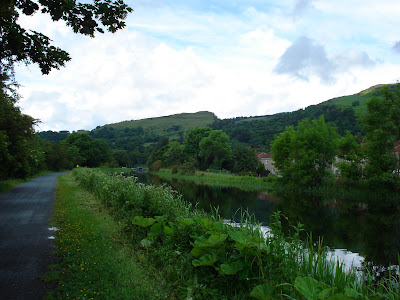 The urban regeneration of Glasgow has lead to some fabulous new buildings along the Clyde, and the city is certainly changing. But there are parts we hurry through, and dark cycle tracks where the morning's drinking has already started. Following the canal tracks through this urban landscape, we suddenly arrive at the beauty of the Firth of Clyde and then Loch Lomond.
| | | |
| --- | --- | --- |
| | | |
| Regeneration along the Clyde | History on the Clyde | Forth and Clyde Canal |
| | | |
| Canal out into the Firth of Clyde | Meeting at Loch Lomond | Loch Lomond |
The afternoon is a mostly solo cycle for me, with groups leaving me behind after Loch Lomond. A long grind up to the "Rest and Be Thankful Pass" sees me actually overtaking someone, up a hill! This must be a first. Spectacular views from the top of this pass make the climb worthwhile, and then heading on for Inverarary for a very late finish after a long day. Fortunately the pubs serve food much later up her, and I get dinner with Elaine, Louise and Gareth in Inverarary.
| | | |
| --- | --- | --- |
| | | |
| Gare Loch near Garelochhead | Loch long at Arrochar | Climbing up to Rest and Be Thankful Pass |
| | | |
| View from top of Rest and Be Thankful Pass | Coming down the other side | Inverarary |
Route maps from Google maps
Tour summary: 82 miles planed, 82 miles actual, 782 miles total so far.