Breakfast turned out to be as random as dinner at the hotel, so we were on waiting duties again to help out with the toast and coffee. A long day planned for today (85 miles), so most people were in a rush to get started and missed the morning briefing. Pity, as there was a shorter route available. I opted for the shorter, flatter route. Instead of taking the tourist route towards Edinburgh and turning back towards Glasgow, I headed along the B-roads beside the motorway.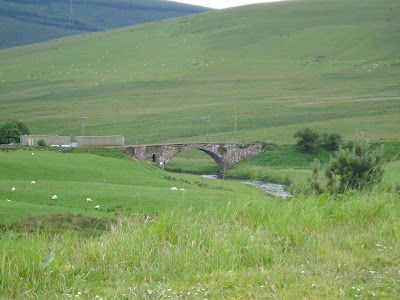 Dull and grey day, but the rain mostly holds off. Not seeing much scenery on the route I take, but I finish the day with a couple of hours to spare, so go to visit a stately home just outside Hamilton - Chateauherault. Contrasting views from the garden with this country mansion on one side and the high rise blocks of Glasgow on the opposite side.
| | | |
| --- | --- | --- |
| | | |
| Church near Lockerbie | Chateauherault | Hamilton from Chateauherault |
Back to the campsite for afternoon tea and cakes before finding the hotel. Staying in another pub/hotel chain, which encourages us to keep our bikes in the room for safe keeping. Dinner with Ian And Gerry.
Kevin's day off, with Elaine and Gareth
Tim, after the long route
Trevor, Andi and Dave
Dawn and Dawn
Down tools for tea break
Tour map from Google maps.
Tour summary: 85 miles planned, 73 miles actual, 700 miles total so far.