Dave "the Train" met up with me today for cycling from Acton Bridge. Dave is a keen cyclist and rode Lejog a few years ago, but he's aware how slow I am, and is happy to ride with me. Cycled through some quaint villages in the morning, from Little Leigh to High Leigh where we crossed the M56 – haven't seen a motorway in days, and now we are crossing 5 in one day to get to Clitheroe. Then across the Manchester Ship Canal at Warburton, avoiding the tupenny toll for motorists.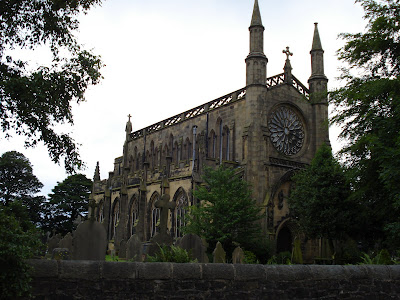 Pleasington
Stop for lunch in the village hall at Rivington and meet up with other Tourists. Lunch with Joerg and Caroline, two doctors from London. After lunch Dave finds an alternative route bypassing many of the hills on the afternoon's journey. Instead of going through Blackburn we cycle the long ridge to Whalley to see the remains of the monastery, great views across the valley and the viaduct at the end.
| | | |
| --- | --- | --- |
| | | |
| Manchester Ship Canal | Whalley Abbey gatehouse | Dave |
With this shortcut, we're back at camp in great time for tea and cakes, well before many others. This is the first time I've been back with time to spare, so I'm grateful for Dave's map-reading, shortcut and hill avoidance. Some of the others are now interested in this, as the afternoon hills proved quite challenging for some. It's becoming apparent that the Bike Adventures chosen route isn't exactly flat or straight – they've chosen an "interesting" route, to keep more experienced cyclists happy with some challenging climbs. This is confirmed when Dave asks about the next day's route – "he's not really taking you through Dent Valley and Dent Station – I wouldn't do that" commented my experienced cycling friend. I listened!
Staying at a hidden, unsigned B&B proves an initial challenge in Clitheroe, but nothing compared to trying to find dinner. A "choice in town" proclaimed the directions, but pubs stopped serving food at 6, an Italian claimed not to be open to the public, and I didn't want to risk the dodgy Indian. Back to the B&B with Tesco's sandwiches and beer had to suffice for this evening.
Tour map from Google maps
Tour summary: 66 miles planned, 74 miles actual, 492 miles total so far.