With an early breakfast, I tried to keep with a few other people as the groups begin to form. But nearly everyone has been training for some time longer than me, and so are quicker on the road - many people are part of regular cycling groups. So it was great to meet up with several others after Bodmin moor. At midday as we crossed the Tamar near Horsebridge, on the old road out of Cornwall, the bridge and setting is beautiful, so I stopped for several pictures - and the others found me there.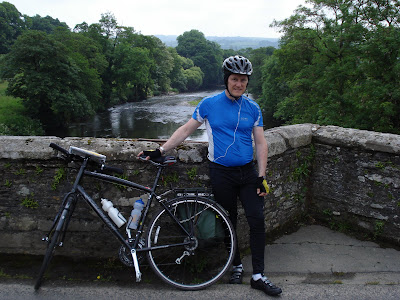 Crossing the Tamar
Great weather in the morning, which really lifts the spirits while travelling this sort of distance. But this turned misty and wet as the hills of Dartmoor approached, much as I would have expected. With a long grind up to the top of Dartmoor, it was great to again meet up with other cyclists at the car park and view point at the top. More photos, and on down to Chagford and Whiddon Down for end of the day. Another slight detour to see a stately mansion left me slightly confused about the directions, so I missed the campsite and tea and cakes.
| | | |
| --- | --- | --- |
| | | |
| Welcome to devon | Tavistock | Dartmoor National Park |
Staying a the Travelodge at Whiddon Down, I was too tired and hungry to walk to the local pub, so risked eating at the Little Chef next door. The lovely lady there was very interested in the tour, even sponsored me to increase my chances of meeting the £2000 target. But the food was terrible - how can anyone get lasagne that bad, when it's just come out of a freezer into a microwave!? Breakfast the next day was much better - clearly, that's what Little Chef knows best.
Today's route from Google maps
Tour summary: 66 miles planned, 71 actual, 134 total