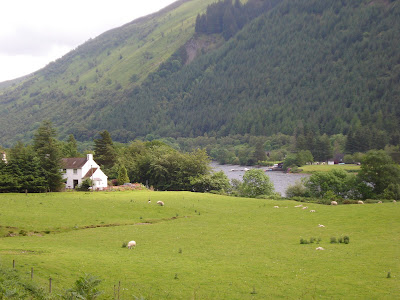 From Fort William there's a choice of routes, through the country tracks or the road to Invergarry. With increasing confidence, and after a day on the roads yesterday, I opt for the tougher country tracks. These prove challenging on a road bike, with ruts and holes more designed for a mountain bike. And the weather doesn't help ... but great views cycling along the shores of Loch Lochy and onto the Caledonian Canal.
Meet up with several others at Fort Augustus at the head of Loch Ness. There are a series of locks here stepped together into Neptune's Staircase to climb up to the higher Loch Awe, matched by the descent at Fort William. Lunch with other cyclists in the sun, and a shop by the lock - it almost feels like a normal holiday for a while.
| | | |
| --- | --- | --- |
| | | |
| Weir between River Oich and Caledonian Canal | Neptune's Staircase at Fort Augustus | Head of Loch Ness |
| | | |
| Lunch at Fort Augustus - Len, Abi, Carl, Ian and Louise | Neptunes Staircase | Lock |
Cycling by Loch Ness in the afternoon is quite disappointing. Nowhere near as beautiful as the lochs and glens in the Lowlands - Loch Ness is too big to have that same feeling about it. Feels more like cycling beside the sea. Reach the campsite in time for tea and cakes after a very long day.
Route from Google maps
Tour summary: 80 miles planned, 82 miles actual, 936 miles total so far.